Volunteerism is a popular community investment strategy, ideally intended to help nonprofits advance their social mission. But are volunteers really building nonprofit capacity and making genuine social change? Are companies and nonprofits getting a social return on investment?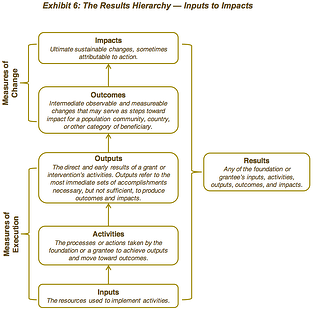 Too often the measurement of volunteer programs is limited to process indicators (inputs and outputs). But it doesn't get us closer to measuring social value or quantifying corporate volunteerism. In the chart below, inputs and outputs are classified as measures of execution, where outcomes are measures of change.
There is a simple way to measure an employee volunteer's influence on a nonprofit partner. Volunteers contribute to a nonprofit's mission by increasing its capacity to make change. By focusing on how volunteers improve capacity, measuring their impact becomes a question of how initiatives affect an organization's reach, efficiency, and effectiveness.
Volunteer Contribution 1: Expanding Nonprofit Reach
Key outcomes question: How many more beneficiaries are served because of volunteers?
Measurement solution: Change in clients served due to volunteer efforts.
Example: A local shelter is able to provide resources to twice the number of clients with intake volunteers.
Volunteer Contribution 2: Increasing Efficiency
Key outcomes question: How much more can nonprofits do with the same resources as a result of the volunteer intervention?
Measurement solution: Increase services provided or operational tasks completed, or decrease in resources required to fulfill the nonprofit mission.
Example: By leveraging skilled volunteers to update the shelter's computer system, more clients are able to receive intake services using the same staff resources.
Volunteer Contribution 3: Building Programmatic Effectiveness
Key outcomes question: How much do volunteers improve the service or product?
Measurement solution: Increase in service quality that is directly related to volunteer efforts or as the result of volunteer projects.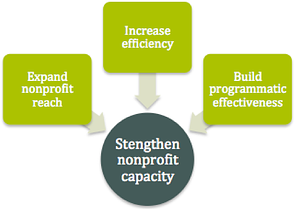 Example: Using a team of volunteers to convene a coalition of social services for the homeless, the shelter is able to provide one-stop referrals to health and child care services, reducing returns to homelessness by thirty percent.
Focusing on reach, efficiency, and effectiveness helps companies and their nonprofit partners move beyond output measurements toward volunteers' contribution to social change and the social return on investment of employee volunteerism.

To develop a simple, practical logic model tool to develop your strategy for achieving social change through your volunteer effort, try our free Logic Model Tool.
Image: The Guide to Actionable Measurement, the Bill and Melinda Gates Foundation.