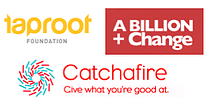 This Monday, February 27th, Farron Levy of True Impact and Lindsay Firestone of Taproot Foundation will co-present "Measuring the Impact of Your Skills Based Volunteer (SBV) Program" as part of A Billion + Change's Campaign Celebration. Billion + Change is a national campaign to mobilize pro bono and skills-based volunteerism. Companies pledge to engage nonprofits and communities by harnessing their employee volunteers' talent and expertise.
Through the Volunteer ROI Tracker, we've documented that skills-based volunteering can generate over 400% more value for nonprofits and communities than traditional volunteering. Skilled-based volunteerism aligns professional and professional-level skills to generate the most value out of each volunteer hour donated. Examples include:
A manager serving on a nonprofit's board
A communications team developing a nonprofit's annual report
An accountant providing tax consultation to low-income families
Below is a review of a few resources on designing, launching, and supporting a successful skills-based volunteer program. For examples of companies who have implemented skilled employee volunteer programs, visit the Points of Light case study series accessible here.
Deloitte creates a simple list of recommendations for companies initiating a skills-based volunteer program in their Key Considerations for Launching a Skills-Based Volunteer Program:
Incorporate skills-based volunteering into existing community involvement programs
Provide employees multiple initiatives to satisfy unique skills and interests
Move beyond annual events and invest in year-round projects
Treat nonprofits like clients to ensure clear expectations, approval processes, and deliverables.
Successful skills-based volunteer programs take institutional and time commitments
For individual employees:
Catchafire, an online connector of professionals looking for pro bono service opportunities, is an appealing option for professionals. But for those with specialized skills not on the project list, or those looking to do high impact volunteerism with a particular organization may find Deloitte's grassroots approach helpful: 10 Tips on How to Volunteer Your Business Skills to a Nonprofit. Their tip sheet integrates a pro bono partnership into an employee's professional work:
Secure management buy-in for project
Select a set of nonprofit organizations that could benefit from your professional skills
Outline how you could apply your abilities to satisfy a nonprofit's business need
Contact the nonprofit organization
Create a brief project plan and set aside time to complete the project
Report your accomplishments to the nonprofit
Written for a nonprofit audience looking to engage skills-based volunteers, Common Impact's Skilled Volunteering 101 outlines case studies and characteristics of successful projects and what capacity is necessary to utilize skills-based volunteers. Questions from the checklist are designed to prepare nonprofits for skilled volunteers:
Do we have the bandwidth to manage external resources?
Have we addressed any roadblocks that have affected our ability to solve this challenge in the past?
Do we know what kinds of deliverables we are looking for from our skilled volunteers?
Do we know how we will support the project after it's delivered?