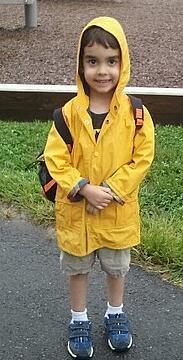 This morning, my seven-year-old son asked me what my job was. When I launched into my elevator pitch of "We provide technology tools and services to help measure and evaluate the impact of CSR programs," I could see his eyes glaze over.

So I took a breath and started again. "Remember how we volunteered to build the playground? And how you made blankets to help the babies at the East Trenton Center? A lot of companies do volunteering. And we help them understand if their volunteering made things better."
He nodded and I could see the wheels turning in his seven-year-old brain. Then he asked "how can you tell if it did make things better?"
"Well, we ask their volunteers questions and then give them a scorecard. It's like a report card."
Now this he understood. "But what if they get a bad grade?"
"We help them, we're like tutors. We help them get better."
He smiled. "Cool. That's a good job."
It is a good job.
Here are 6 reasons I love my job:
Our technology is easy to implement. It doesn't take 6 weeks, or 6 months to launch. It takes about an hour. Really.
The True Impact Scorecard gives practical results. We can see which activities made a big impact, and which activities fell flat. Through clear analytics and reporting, it's easy to see and understand your programs' impact.
It's affordable.

Your departments are like small non-profits operating within large corporations. We want you to you spend your budgets doing good in this world.

We work with any system.

No matter if you use a vendor to manage your volunteer program, or duct tape and paper clips – our tools work and our commitment to industry collaboration ensure easy partnerships and integration points.

It's not just about the numbers.

Yes, we can measure the impact of your programs (volunteering to green teams to giving), but now what? It's "the now what" that really makes a difference. We work with you to set goals and develop practical, real-world strategies to meet those goals. Then, through on-going support, we help keep you on track to meeting those goals.

It's incredibly rewarding.

Empowering our clients to make decisions based on metrics and impact so that their programs can make more positive change in the world is incrediably rewarding. Because, when all is said and done, that's a pretty big deal. Even in the eyes of a seven year old.
Have you seen our tools lately? We'd love to show you a demo. Give us a call