Measurement Services
Just need it done? Outsource your return on investment (ROI) calculations to us, and receive user-friendly ROI scorecards for your programs. Or, we'll help you do it yourself with our Custom Metrics Guide or Measurement Workshop.
ROI Tracker
Outsource your social and business impact measurement via the ROI Tracker, a turnkey impact monitoring service.

The ROI Tracker captures comprehensive impact data directly from program participants via web-based surveys, and generates custom reports that:
Quantify the business and social impacts of your volunteer activities
Anonymously benchmark your performance against other organizations
Include recommendations for improvement (i.e., how to increase social and business
Join benchmarking networks around Volunteerism or Board Service, or custom ROI Trackers for your Pro Bono, HR & Diversity, or Sustainability programs.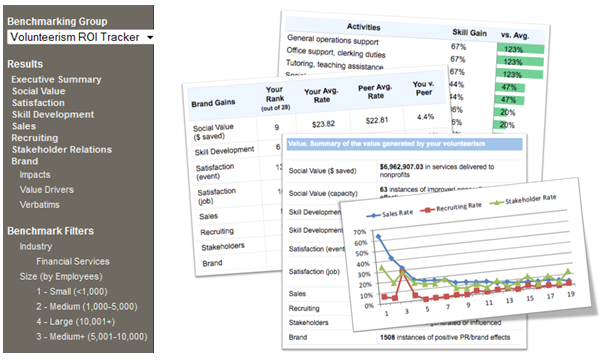 ROI Scorecard
Select any exsting or prospective programs -- e.g., grant, sponsorship, volunteerism, sustainability, HR, or other citizenship activities -- and we'll quantify the actual or estimated social and business impacts for you.
The resulting "CFO ready" calculations help you prove value, guide investment, and improve returns, by capturing:

Business value. Impacts on sales, recruiting, retention, productivity, satisfaction, brand, or risk

Social & environmental value. Impacts on your targeted social causes, and their social and socio-economic ripple effects.


Custom Metrics Guide
Produce ROI Scorecards on your own: we deliver a custom blueprint for leveraging your existing resources to collect and calculate ROI results.
Features & Benefits

The resulting step-by-step implementation guide contains the following components:

Key performance indicators (KPIs) for each program strategy, including inputs, outputs, and short-, medium-, and long-term outcomes
Practical, agreed-upon implementation plan, including: who collects what data, how, when, and in what format; and customization options for existing IT systems
| | | |
| --- | --- | --- |
| To learn more about how these web tools and support services can help make your programs more successful -- and your life easier -- contact us. | | |