Overview
A specalized adaptation of our successful Volunteerism ROI Tracker, the Board Service ROI Tracker is a new, cutting-edge impact measurement service that enables you to:

Quantify the social and business value of your nonprofit board service programs
Invest more strategically (i.e., capitalize on those initiatives that generate the most value)
Promote continuous improvement and accountability within corporate initiatives in nonprofit board service
This service is developed and delivered in partnership with BoardSource, the leading nonprofit organization dedicated to building exceptional nonprofit boards and inspiring board service.

You may access your confidential, real-time ROI calculations and benchmark rankings at any time via your SSL-encrypted web-based account: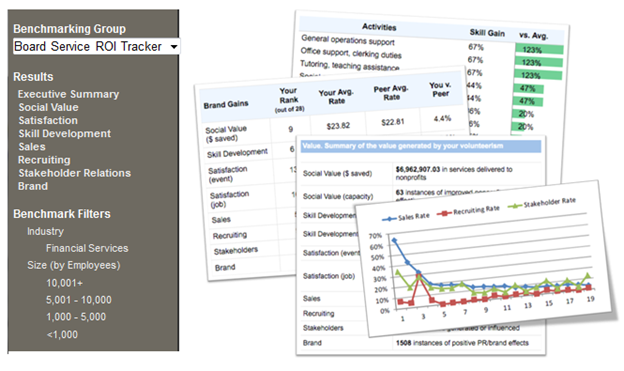 ROI/Benchmarking Reports contain quantitative and qualitative impacts, value drivers, and verbatim feedback regarding social value, satisfaction, sales, recruiting, stakeholder relations and brand effects.


How it Works
As with our other ROI Tracker services, we collect impact data directly from your employees using web-based surveys (custom branded with your logo and contact information). Real-time benchmarking allows you to share custom reports with internal and external stakeholders that:
Quantify the business and social impacts of your board service programs
Anonymously benchmark your performance against other organizations
Include recommendations for improvement (i.e., how to increase social and business return on investment (ROI)).
It's entirely turnkey: just define the desired scope of your monitoring (activities and impacts), and we do the rest! It's:
Simple. Signing up is easy, and setting up the survey takes less than 30 minutes of your time.
Powerful. Systematically collects key performance data, for strategic management.
Universal. Open to organizations of all sizes, including Fortune 500 companies, nonprofits (large and small), and volunteer centers.
Private. Your results are confidential, and benchmarking occurs anonymously.
Platform neutral. Works with any third-party or custom management system (even Excel).
Customizable. Analyze all of your activities and impacts, or just a portion, as desired.



Examples
The Board Service ROI Tracker duplicates the implementation and design of our popular Volunteerism ROI Tracker, described by participants as:
Assessing the social and business value of volunteerism is the key to managing it strategically and maximizing ROI. This is a pioneering - and much needed - tool.

-- Terrez Thompson, Director of Employee Engagement, Coca-Cola

It is the only survey I have found to measure – and benchmark – actual employee volunteer impacts (beyond just satisfaction). I highly recommend it.

-- Sean Rosas, Sr. Manager of Employee & Community Engagement, Salesforce.com

Easy to administer, produced useful program insights, and reasonably priced: a great package!

-- Kim Frawley, Director, Corporate Responsibility, Pfizer

It provided us important information we'd previously been unable to obtain, giving us new insights into what makes our program valuable and how we can improve.

-- Anna Cunningham, Manager, Global Responsibility, Starbucks Coffee Company

The information was extremely useful and touched on key areas of business interest: an invaluable tool for strategic program management.

-- Immanuel Sutherland, Specialist, Community Relations and Employee Involvement Programs, Altria

It provided great information that we always struggle to obtain...and it was easy!

-- Lauren Keeler, Director of Volunteerism, Apollo Group/University of Phoenix
Learn More: Findings & FAQs
To recieve an FAQ document/price list for participation in the Board Service ROI Tracker -- please enter your information below (the information will be automatically emailed to you):