Impact Measurement for CSR and ESG Programs
True Impact's advanced measurement software validates the impact of your grants, volunteerism, and in-kind donations, generating the insights you need for proving -- and improving -- the value of your philanthropic investments.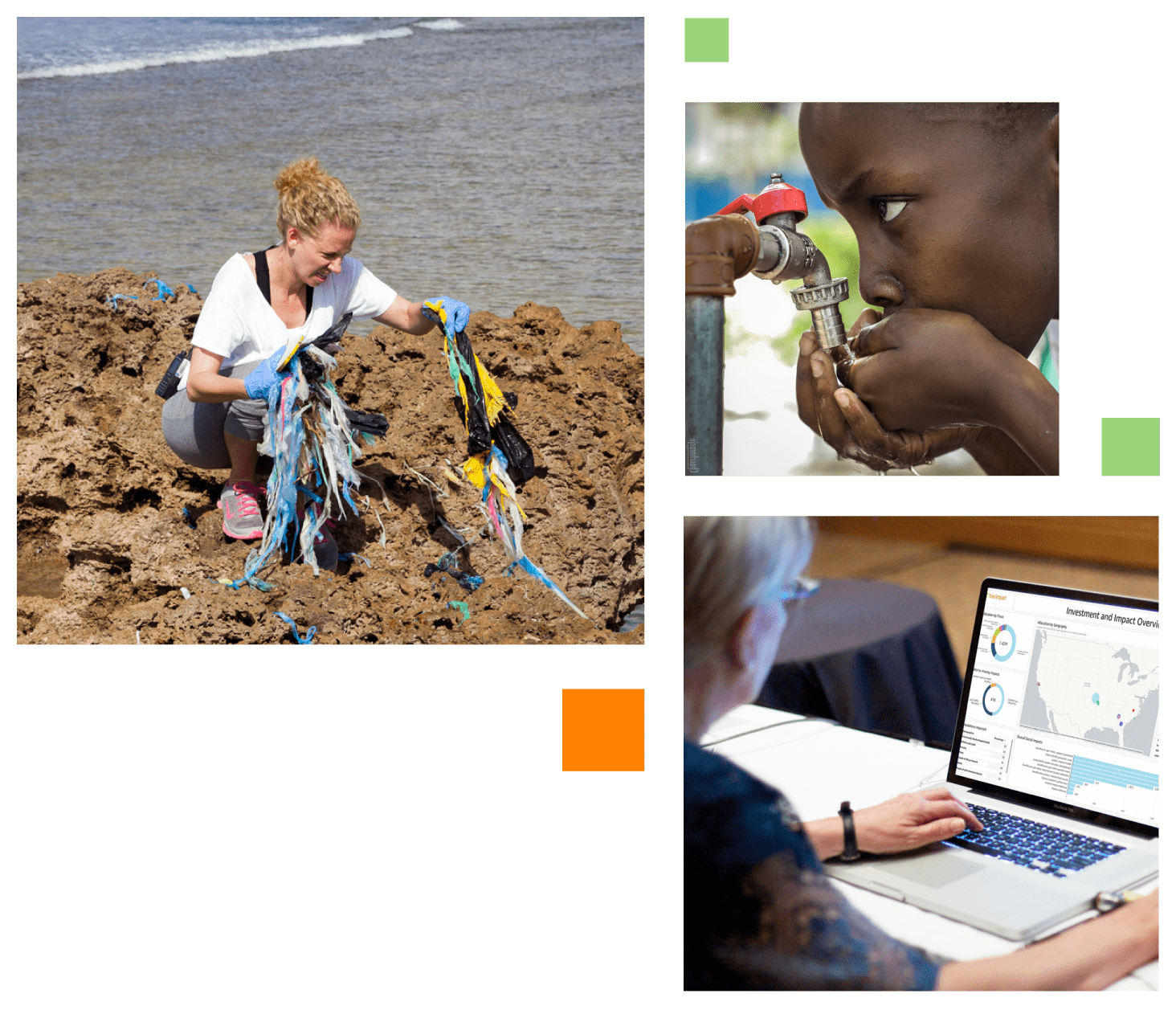 True Impact has over 18 years of experience helping more than 150 Fortune 500 companies measure and maximize their charitable impact.
Why do traditional impact
measurement approaches fail?
Wrong Data
Most grants and volunteer systems track how much you give and whom you serve (outputs), not how you're improving people's lives (outcomes).
Wrong Format
Typical reporting allows nonprofits to use unique metrics, making comparative or aggregate analyses across organizations impossible.
Wrong Processes
Hardworking funders and grantees are already overtaxed. Getting good data is simply too complex, too expensive, and too time consuming.
This leaves you...
Unable to demonstrate the real impact of your effort
Without compelling answers to key stakeholder questions
Guessing how to best "move the needle" on top social objectives
Helping You Prove and Improve Your Impact
We understand how frustrating it is to lack the data to demonstrate the value of your philanthropic programs and guide future donation decisions to maximize results.
That's why we created the first and only platform combining turnkey simplicity with expert support to generate the data you need to prove and improve the impact of all your philanthropy–without overburdening your team or your nonprofit partners.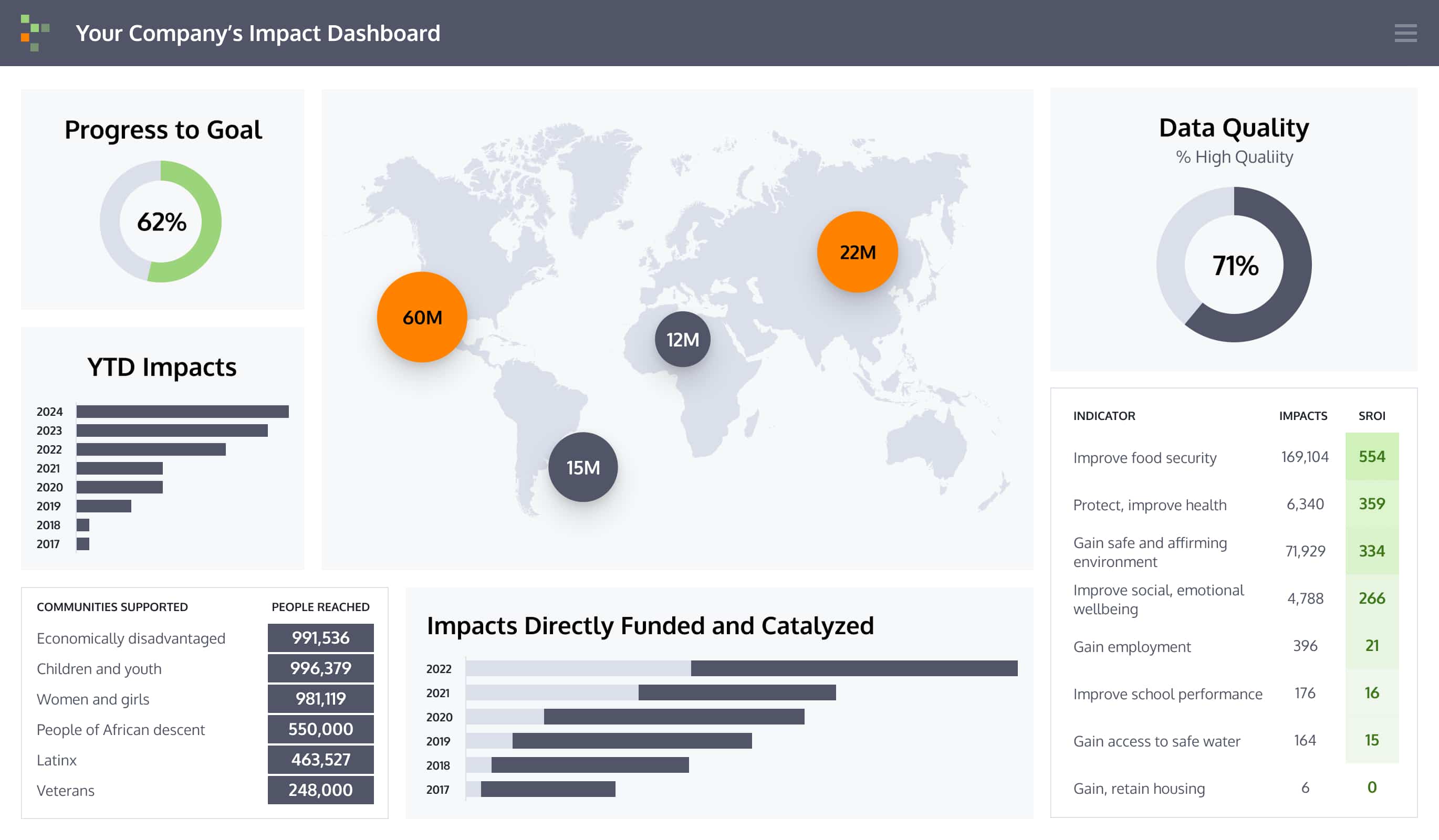 Need help thinking through your
social impact measurement challenges?
Experience the Power of True Impact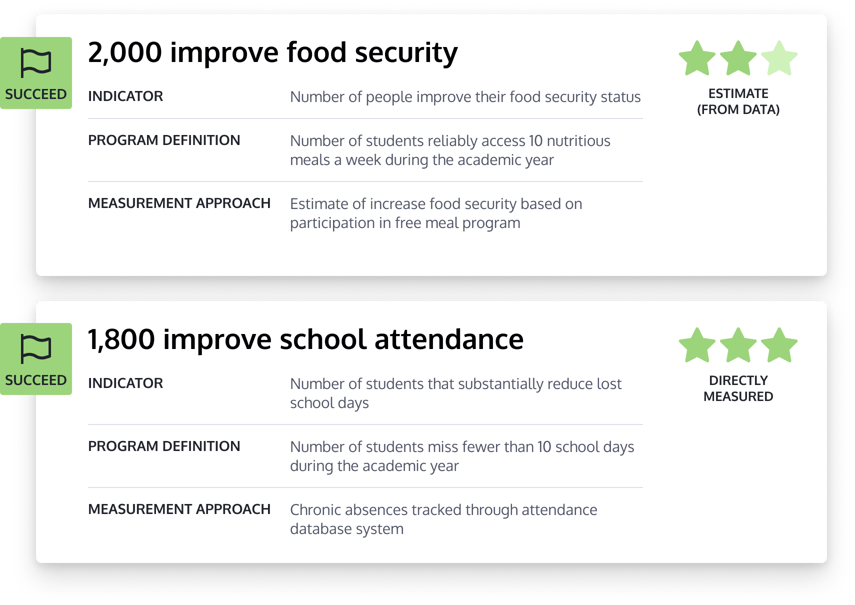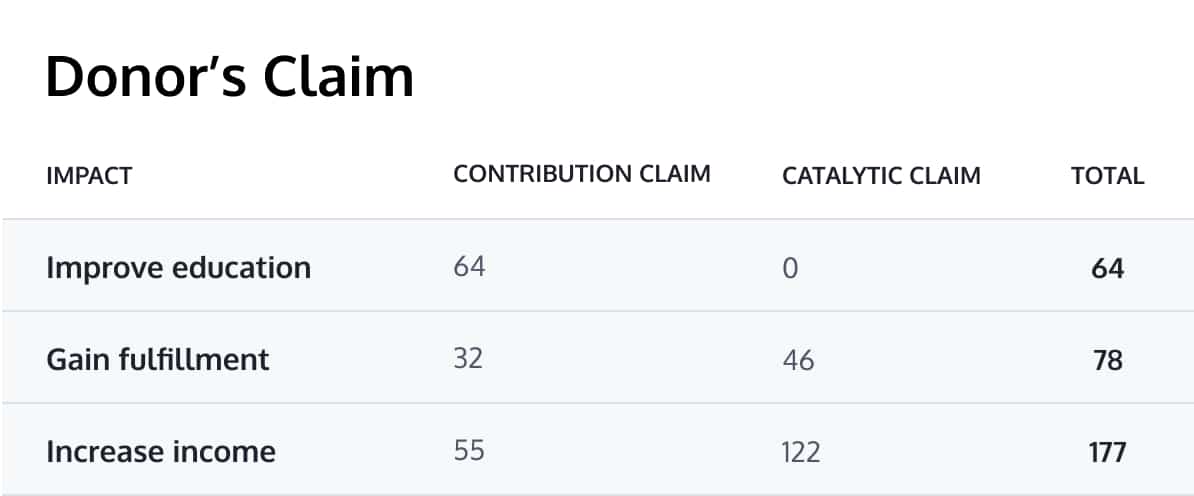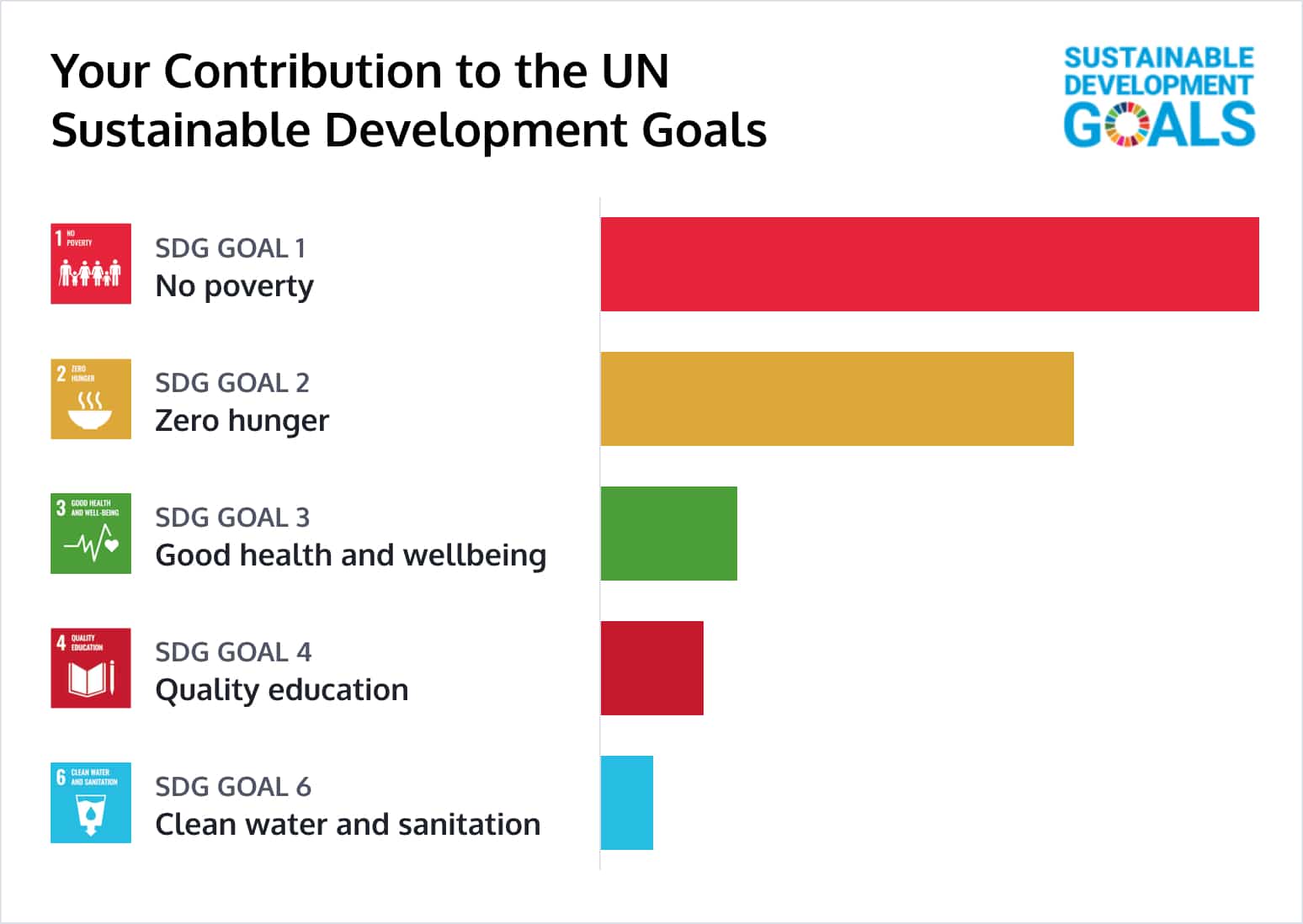 Three Ways True Impact Can Help You—
and Your Nonprofit Partners
1. Improve Data
True Outcomes
Expert technical assistance guides your nonprofits to report on outcomes, not just inputs and outputs.
100% Nonprofit Accessibility
Any nonprofit can report, regardless of their size, capacity, sophistication, or data availability (or lack thereof).
Claim Calculations & Roll Ups
Automatically calculate how much of each nonprofit's impact you can claim, and your aggregate impact on key causes across all of your donations.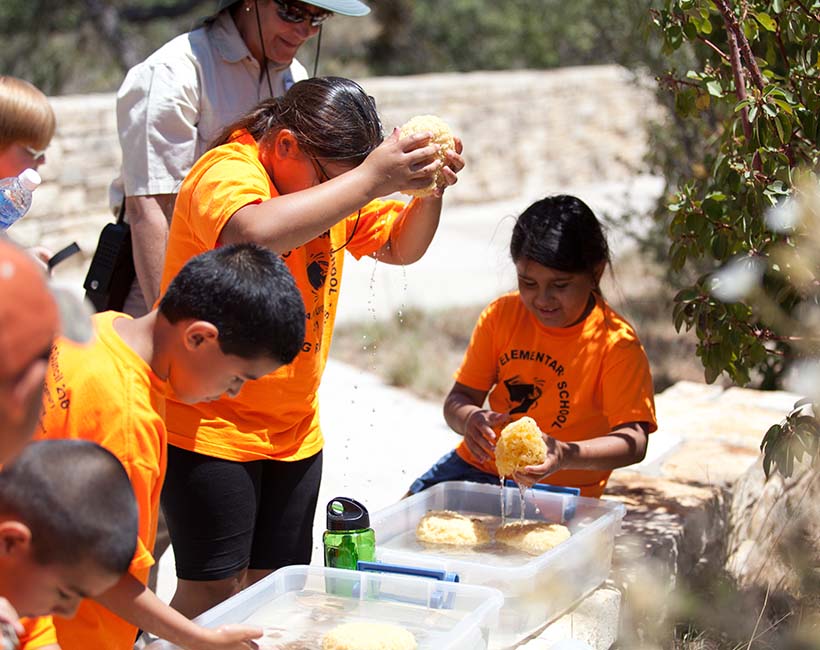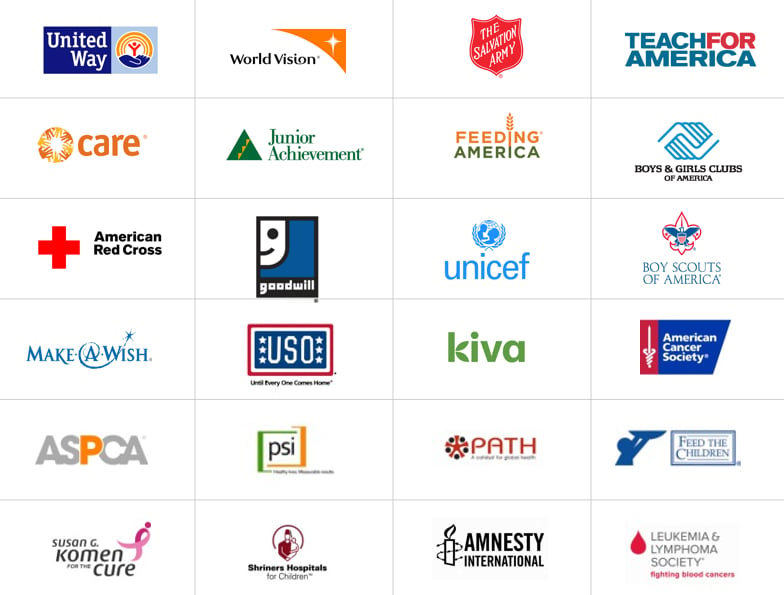 2. Save Time
One-Stop Measurement (All Programs)
Cover all of your grants, volunteerism, and in-kind contributions in one place.
One Report (All Stages)
Streamline reporting by enabling your nonprofit partners to use the same user-friendly True Impact report at each stage of your donation process: application (i.e., initial forecast), midpoint update, and final results.
API Integration
Eliminate duplicative efforts for your staff and your nonprofit partners by integrating True Impact with your existing grants or volunteer management system or data warehouse.
3. Increase ROI
Management KPIs
Promote accountability by monitoring reporting compliance, variances from initial forecasts, and renewal drivers.
Investor KPIs
Calculate social return on investment (SROI), leverage/catalytic impacts, data quality, and many other CSR metrics.
Benchmarking & Best Practices
Comparative analyses help guide investment and program management decisions.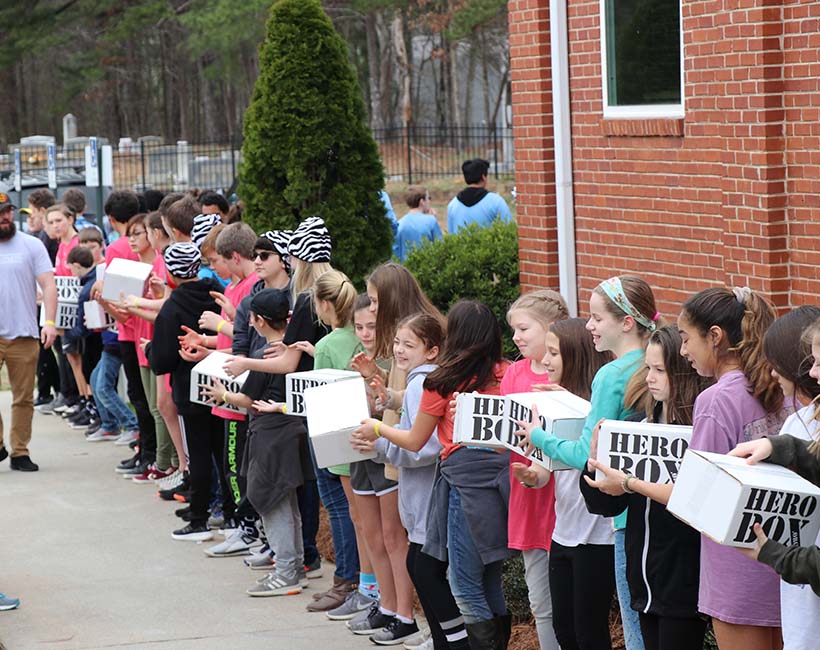 "True Impact has served as a trusted resource as we continue to refine the measurement of our grantee partners' impact. Our partnership gives us confidence, knowing that our grantees have reporting flexibility and support in the hands of True Impact's thoughtful, creative and responsive team."
Sarah Davison
Program Specialist
Our Experience
Since 2005, we've helped companies and nonprofits—across virtually every industry and cause area—to measure and maximize their social good.
4,430
Impact reports created by nonprofit partners
$4.5B
Value of contributions tracked through our system
146
Companies we've helped to measure the difference they make in the world