Case Study



Goal
To build empowered, educated, and inclusive communities.


Summary
Con Edison awarded $10 million in 623 grants in 2015 across five focus areas of its Strategic Partnerships program: Arts & Culture, Civics, Community, Education, and Environment. To fulfill its commitment to accountability and continuous improvement, Con Edison sought to capture the social impact of these investments to communicate with key internal and external stakeholders, and to help guide future investment decisions.
Sample Results
To meet Con Edison's goals, we configured its True Impact account to accommodate the diversity of investments it makes within each focus area, including 13 separate subcategories:


Arts & Culture
Arts Access
Access to Culture/Science/Humanities
Civics
Environmental Stewardship
Stewardship Programs
Career Development Programs
Conservation/Beautification (Service)
Conservation/Beautification (Capital Investment)
Education
Educational Programming (K-12)
STEM Education/Career Development Programs
Secondary/Post-Secondary Access and Retention
Career Development Programs
Scholarship (Post-Secondary Education)
Community Partnership
Career Development Programs
Disaster Relief
Youth Development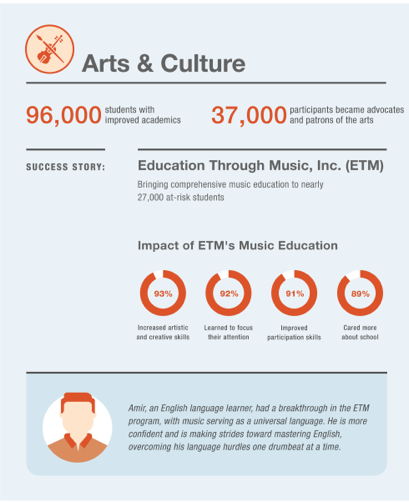 The resulting data reported by Con Edison grantees enabled the company to easily roll up the aggregate results and share it via its public website. A sample:
In 2015 Con Edison provided $2.5M to arts and culture groups who provide programs in the visual and performing arts to the public and arts in education to our public schools.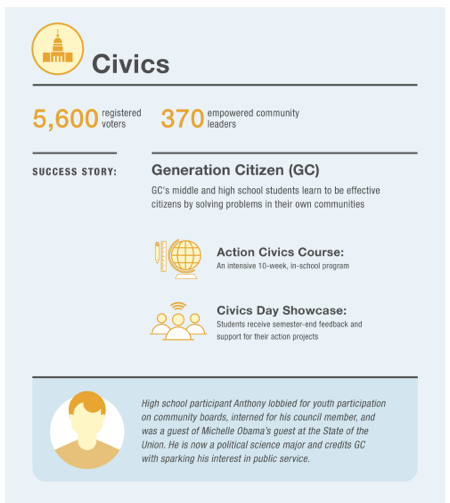 Con Edison gave $300k to programs that create interest in the democratic process by providing young people with the skills necessary for life-long civic engagement.
For more information on Con Edison's Strategic Partnerships program, please visit https://www.coned.com/partnerships.