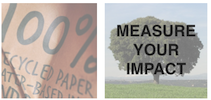 True Impact recently took on the challenge of capturing the impact of Green Team projects. The result of our efforts is the Green Team ROI Tracker, a tool crafted to calculate the impact of employee-led sustainability projects. This series provides step-by-step instructions for measuring Green Team initiatives.

Recycling and employee-led Green Teams often go hand-in-hand. In this post, we share strategies for measuring your employee recycling initiatives to justify, communicate, and improve your recycling program. For information on starting a recycling program at work, visit EPA's WasteWise website.
Recycling's Triple Bottom Line
There are economic, social and environmental benefits to recycling on an individual and institutional level. The recycling benefits — creating jobs and increasing US competitiveness, preventing pollution, conserving natural resources, and sustaining the environment for future generations — listed by the Environmental Protection Agency (EPA) can be powerful motivators for individuals, and can also provide a competitive advantage for companies.
Economic - Reduce Hauling & Disposal Costs
As an EPA white paper explains, recycling reduces the cost of waste disposal through lower hauler fees, disposal charges, and equipment service costs while generating revenue through selling recyclable materials. Less waste and more recycling positively improves the bottom line.
Environmental - Reduce Greenhouse Emissions
Waste prevention and recycling reduces greenhouse gases by reducing emissions, saving energy, and increasing forest carbon sequestration. Most relevant for your Green Team, recycling will help minimize CO2 emissions into the atmosphere.
Social - Strong Community Development
Recycling produces social benefits for your corporation. An EPA fact sheet describes how recycling contributes to strong community development that is relevant for corporate communities. For example, bringing your employees together for a common goal of recycling could create a more united corporate culture.
Measuring Recycling Initiatives
In order to measure the employee environmental impact of diverting waste from landfills, you must understand how to collect your usage. Here are some tactics for measuring the most common recycled materials: paper, plastics, glass, and cans.

Paper
Paper is the most common material in landfills, accounting for 40% of all landfill waste. One million tons of recovered paper is enough to fill more than 14,000 railroad cars. (Source: Earth911). Some examples of how to reduce paper waste include eliminating unnecessary printing, increased use of double-sided copies, making more recycling bins available, and improving communication and education on recycling.

Here are two ways to measure your paper reduction efforts:

Option one: Your building may already pay for paper recycling by the ton, so use recycling records to determine the change from one month to the next.

Option two: Alternatively, determine how much of the paper that you bought was recycled in order to estimate how many pounds you diverted from the waste stream. If you recycle 100% of the paper you buy, you have recycled 50 pounds a case, 5 pounds a ream, and .16 oz. a sheet.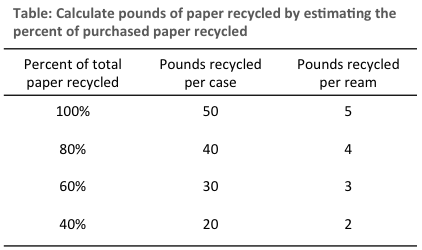 Plastics, Glass, and Cans
In order to measure your environmental impact on recycling these materials, here are two options:

Option one: Estimate recycling by weighing a sample of bins on recycle day and extrapolate the number of pounds recycled for the whole office.

Option two: Collect the weight of recyclables from the recycling vendor. Compare the month before the recycling initiative and the month during the recycling initiative to calculate change in recycling behavior.
Tools to Measure Impact
Once you measure your usage, you can calculate your environmental impact and business cost savings in a variety of ways, including manual calculations, EPA Calculators, and the Green Team ROI Tracker:
Manual calculation:

Calculate your CO

2

Reduction from recycling by using the

EPA's ReCon Tool

. For every metric tons (2000 pounds) you recycle, you save 2.87 metric tons of CO

2

.

EPA:

The

EPA Recycling Content Tool

helps companies evaluate the greenhouse gas (GHG) benefits associated with increasing the recycled content of materials. The EPA's

Waste Reduction Model

helps organizations track greenhouse gas (GHG) emissions reductions.

The Green Team ROI Tracker:

True Impact's

Green Team ROI Tracker

uses a platform-agnostic sustainability calculator to provide environmental impact data on your Green Team initiatives.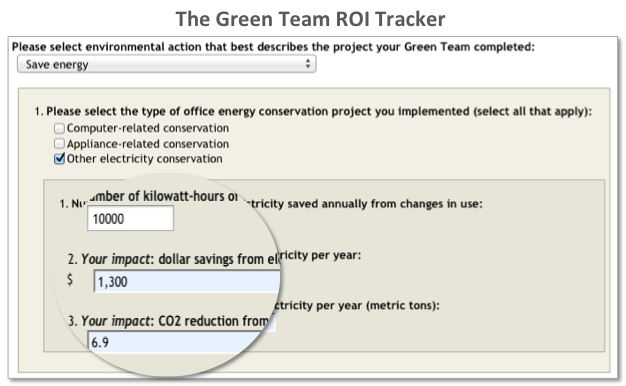 For more measurement tips for Green Teams, see our comprehensive Green Team ROI Tracker Measurement Guide. To learn more about True Impact's measurement work, contact us!