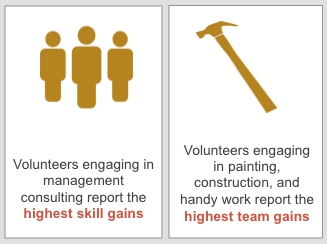 The recent news from Yahoo's Chief Executive to end remote working arrangements for several hundred employees brings a spotlight to the benefits of bringing people together to build employee engagement and productivity.
As employees increasingly telecommute, work across national and international sites, or even in large departments, a persistent challenge is a lack of 'passive face time' that can foster relationships and spark innovation. And therein lies a key benefit of many community involvement programs, particularly traditional (or "hands-on") volunteering: bringing employees together to build relationships and camaraderie around worthwhile, fulfilling, and energizing tasks.
Employee Engagement
Engagement is a measure of employees' commitment and affinity to the company and is a proven driver of people to put in their best work. It's about having employees excited to be part of the company, and is driven by many factors, including workplace opportunity and fulfillment, strong management, compensation, and values.
Volunteer programs are an opportunity for companies to speak to employees' personal values and enable employees to live those values at work. Further, volunteerism also strengthens the social capital – i.e., the personal networks and relationships – that generate engagement. Indeed, of the 12 questions in the Gallup Poll's popular Q12 Employee Engagement Index, two questions are specifically about personal relationships at work:
My supervisor, or someone at work, seems to care about me as a person.
I have a best friend at work.
Whether your company uses the Q12 or some other methodology to track employee engagement, consider borrowing some of its component metrics to track how your individual community engagement programs contribute to these engagement effects. For example, our Volunteerism ROI Tracker surveys collect data from volunteers on the effects of specific volunteer activities on job satisfaction and team development. Such measures can provide crucial insights that help prove the value of your programs – and illuminate opportunities to improve their value.
Where Traditional Volunteer Activities Win
For all of the recent (and well-deserved) attention being paid to skills-based volunteerism and pro bono service, our research has found that skills-based volunteerism had greater social and business impacts than traditional volunteerism in every category except one: team development. In our latest study of volunteerism's social and business impacts, including more than 44,000 volunteers from 29 companies over the past two years, 57% of volunteers performing hands-on, traditional activities reported new or stronger team relationships compared to 48% of skills-based volunteers.
| | |
| --- | --- |
| Top 5 volunteer activities reporting new or stronger colleague relationships | |
| Painting, construction, handy work | 80% |
| Landscaping and groundskeeping | 79% |
| Market research support | 75% |
| Janitorial and cleaning | 73% |
| Social service support activities | 62% |
Volunteers report significant team benefits from traditional volunteerism:
"By working side by side doing manual labor, I got to see my co-workers in a much different environment than I usually do"
"Working together for a common purpose reminds us how much we rely on each other in our daily work"
"I met HQ staff whose names I recognized only on email. It was terrific to stand shoulder to shoulder with them in an effort to complete the project. I had the opportunity to relate to them in a different way than as we do at work"
Employee volunteer programs become even more essential as colleague relationships cross-regional and cultural boundaries. Volunteer programs that nurture human interactions are key to engaged employees, locally, remotely, and globally.
For more information on the social, employee, and business impacts of volunteers, read our white paper on the 2013 volunteer activity findings.