Overview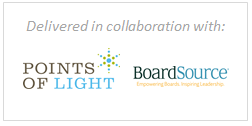 The ROI Tracker is a sector-leading measurement service for quantifying and benchmarking the social and business value of your volunteerism (including traditional, skills-based, pro bono, and board service).
The ROI Tracker works with any existing volunteer management system to:
Prove value, by quantifying the social and business value you are generating (to help you prove value and build support among your stakeholders)
Increase ROI, by illuminating opportunities for improvement (to help you maximize the social and business return on investment of your activities)
Access your confidential, real-time ROI calculations and benchmark rankings at any time via your SSL-encrypted web-based account.
ROI/Benchmarking Reports contain quantitative and qualitative impacts, value drivers, and verbatim feedback regarding social value, satisfaction, sales, recruiting, stakeholder relations and brand effects.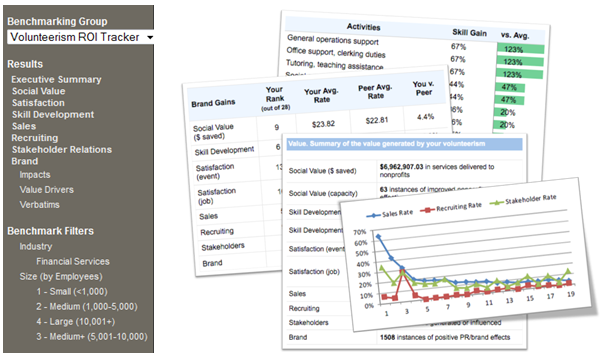 ---
How it Works
We collect impact data directly from your volunteers and beneficiary organizations using web-based surveys (custom branded with your logo and contact information). Real-time benchmarking allows you to share custom reports with internal and external stakeholders that:
Quantify the business and social impacts of your volunteer activities
Anonymously benchmark your performance against other organizations
Include recommendations for improvement (i.e., how to increase social and business return on investment (ROI)).
It's entirely turnkey: just define the desired scope of your monitoring (activities and impacts), and we do the rest! It's:
Simple. Signing up is easy, and setting up the survey takes less than 30 minutes of your time.
Powerful. Systematically collects key performance data, for strategic management.
Universal. Open to organizations of all sizes, including Fortune 500 companies, nonprofits (large and small), and volunteer centers.
Private. Your results are confidential, and benchmarking occurs anonymously.
Platform neutral. Works with any third-party or custom management system (even Excel).
Customizable. Analyze all of your activities and impacts, or just a portion, as desired.
---
Examples
Join organizations of all sizes, industries, and sectors, including Apollo Education Group (click for case study), AT&T, Boeing, Deloitte, General Electric, Timberland, and UPS in this innovative, sector-leading initiative.