Case Study
Next-Level Impact Measurement for Complex Portfolios
How One Company Went from "Dollars Spent" to "Lives Impacted"
One of our clients, a Fortune 500 company with almost 40 million customers worldwide, has always operated with a commitment to corporate citizenship and philanthropy. Some of the company's priority causes include sustainability; improving economic prosperity; diversity, equity, and inclusion; and climate action.
A few years ago, their CSR teams were frustrated with the lack of data on the value of their philanthropy. They knew how many dollars were spent on each program but couldn't measure how much they were benefiting society. To better substantiate their work, they needed a way to measure their impacts.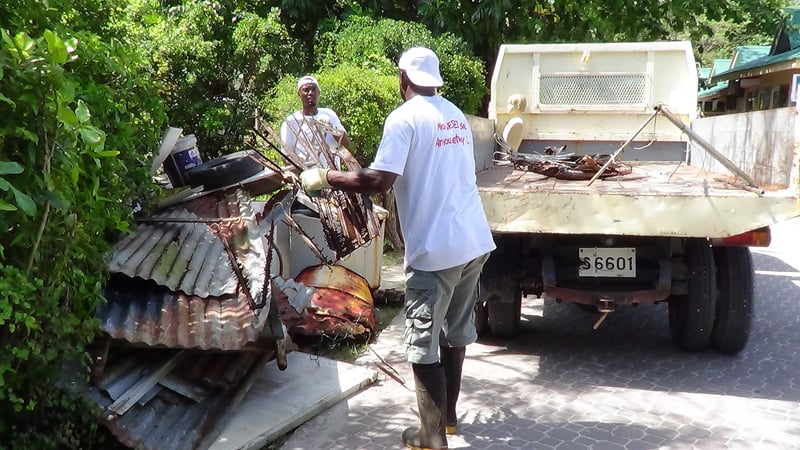 Previously, the company used an ad-hoc approach, asking organizations for annual reports, spotlight stories, and whatever other results they had available. In an initial attempt to improve impact tracking across the individual grantmaking portfolios across multiple business units, the CSR teams planned to ask each of their more than 100 nonprofit partners to report using a predetermined list of only five metrics. They quickly realized, however, that this would be impractical: Their nonprofit partners improved the world in different ways, and five metrics wouldn't capture all of the value being generated.
"Impact measurement was a dream," a corporate citizenship analyst for the company explained. "But we needed a process that was more flexible, yet still easy for everyone to use."
Solution: Standardization + Expert Support
With a handful of separate business divisions administering community-level grants across a broad range of cause areas, the company quickly saw the value of True Impact's reporting platform for nonprofit partners. User-friendly, step-by-step guidance walks even novice nonprofit users to select appropriate metrics from True Impact's library of standardized outcome indicators. Then, when a nonprofit completes its draft social impact report, True Impact's staff of measurement and evaluation (M&E) experts reviews the results and provides feedback as a second level of technical assistance.
True Impact senior Social Impact Manager, Sara Ansell, kicked off onboarding. She united the company's distributed CSR teams, guiding them through a common set of procedures to support their signature issues and priorities while minimizing demands on both their teams and nonprofit staff. The result: Each division uses True Impact independently, and the results roll into one company-wide dashboard.
Within months, the company had the aggregated impact data needed to clearly measure the difference they were making within their communities—not the dollars spent, but the lives improved.
In the first 18 months, the company used True Impact to evaluate more than $11 million in grants to almost 200 programs, which reached 2.2 million people and led to almost 2 million successful outcomes.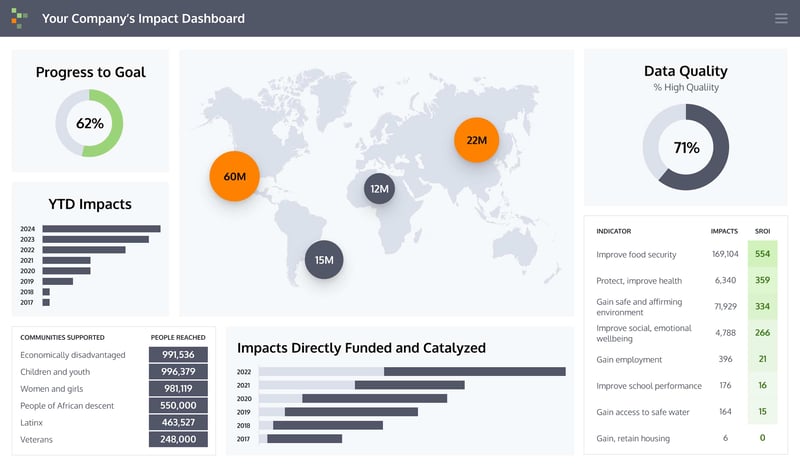 ---
"Our 2021 investments are projected to result in over 140,000 metric tons of CO2 emissions being reduced or avoided, while simultaneously generating over $1 million in estimated economic savings for recipients over time."
Director of Corporate Citizenship
---
Taking Action: Measurement as a Means to an End
With True Impact data in hand, their CSR teams can now fully express the value of their efforts. They use the data in both internal and external communications, illustrating their results with powerful metrics and meaningful outcomes.
This Fortune 500 company can now describe exactly how and how much they are bettering society in clear detail. With True Impact's customizable data dashboards, their teams have access to comprehensive impact data for inquiries, presentations, and corporate communications. Whenever additional clarification or information is needed, Sara is available to further customize the dashboard and offer feedback, ensuring the teams can meet all data requests.
---
"The support True Impact provides is invaluable. There are a lot of data-collection platforms on the market, but the personal connection with an M&E expert really makes a difference. Sara, our client success manager, is there to have the necessary conversations to get us the impact data we need—and that's on top of the platform, which is great! I'd recommend it to anyone."
Corporate Citizenship Analyst
---
Another advantage of using True Impact is that the company is able to evaluate both forecasted and final social impact investments. Although the final impact figures for 2021 won't be available until later this year, the company is able to use projections to estimate their economic, environmental, and social impacts, including $2 million in savings and 1.5 million positive outcomes for families.
With this collaboration, it's not just the company that benefits—the nonprofit partners also build capacity and knowledge of the strategies that are working best. The company's donor dashboard is updated in real time, enabling them to provide immediate feedback to their partners with insights generated from their automated benchmarking and social return on investment (SROI) calculations. Their teams can then double down on high-performing programs, further improving their social impact.
Before partnering with True Impact, these CSR teams could only measure impact with "dollars spent" and "priority areas reached." Now the company has meaningful data-driven stories to tell, turning dollars into outcomes and insights into actions.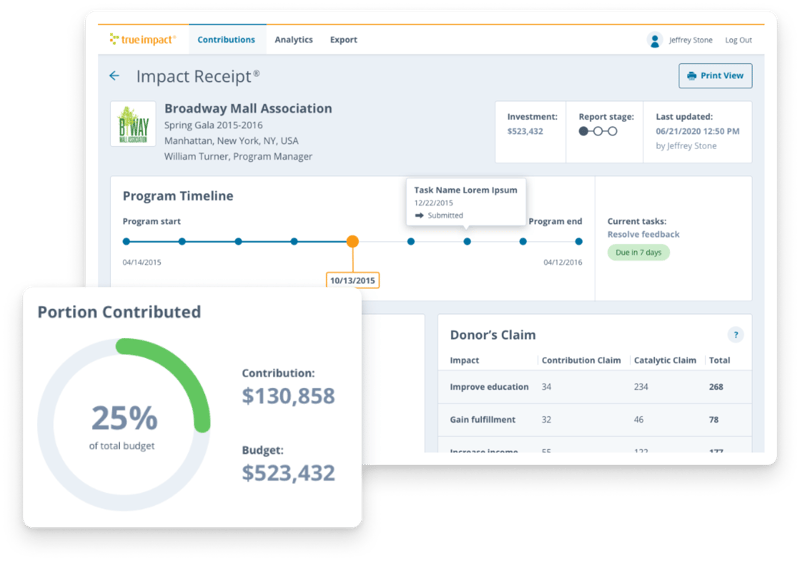 ---
"The ability to access individual reports for a quick glance of how certain programs are doing have proved very helpful for [Company's] corporate team to evaluate certain partnerships."
Corporate Citizenship Analyst
---
Social Impact Measurement and Reporting Made Easy
Are you also frustrated by a lack of actionable data and high-quality metrics for your corporate philanthropy efforts? Is your team also stuck in a world of "dollars donated" or "people reached," with little understanding of the social impact of your investments? Schedule a demo with the True Impact team to learn how to prove—and improve—the value of your programs.