NEW YORK, October 25, 2016 /3BL Media/ - Companies want to do good for their nonprofit partners through their pro bono programming. But, many companies know that they need an improved approach to social impact measurement to better assess the value of their services.
Taproot Foundation and True Impact recognized the lack of pro bono program measurement standards and common confusion over how to measure the effects of pro bono service. Together, with support from Mastercard, they demystified this issue by developing a practical guide for corporate social responsibility (CSR) professionals. This new resource will help corporate pro bono practitioners seize opportunities to better tell the story of their impact on the nonprofits they serve, validate their investment, and continuously improve their offerings.
"We're excited about this guide for corporate pro bono practitioners because it takes the mystery out of knowing what to measure, how to measure, and why it matters," said Catherine Ward, National Director, Advisory Services at Taproot Foundation. "We want to raise the bar on what pro bono is doing for our communities and proper evaluation of our programs is the way to get there."
Companies typically evaluate pro bono programs by capturing data points, such as the number of volunteer hours logged or the number of employees engaged. However, when companies focus on capturing outcomes, they will be better equipped to understand the extent to which their pro bono investment improves nonprofits' ability to carry out their missions.
"We want to know that our pro bono efforts are truly helping our nonprofit partners become more efficient, effective organizations," said Susan Warner, Vice President of Worldwide Communications at Mastercard. "While having energized employees is a positive result, this new guide will help companies better understand and improve future pro bono programs."
Outcomes for Measuring Nonprofit Capacity Building:
1. Social performance: The pro bono intervention increases the effectiveness of the organization's services or their ability to serve (reach) more beneficiaries.
2. Financial performance: The pro bono intervention helps increase revenues or reduce operating costs.
"A practical, outcomes-based measurement framework is key to ensuring accountability and continuous improvement for any initiative. This guide offers a simple and effective way to bring that to pro bono programs—to prove value, identify opportunities to do better, and align internal and external stakeholders," said Farron Levy, President and Founder of True Impact.
Pro Bono Capacity Building: Evaluating What Matters Most
This guide will help CSR professionals:
Get beyond measuring the basics, like resources invested (inputs) or the services provided (outputs)
Understand the benefits of measurement using the Nonprofit Capacity Building Logic Model
Chart a course for how improving the way pro bono's social impact is measured
Download the guide here: Pro Bono Capacity Building: Evaluating What Matters Most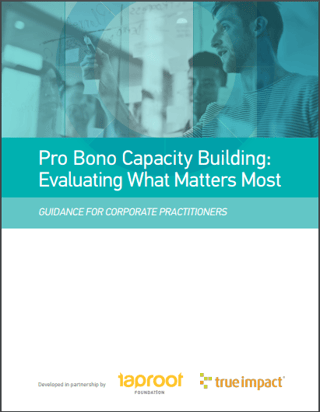 This paper was made possible through the generous support and partnership of Mastercard.
About Taproot Foundation
Taproot Foundation, a U.S. nonprofit, connects nonprofits and social change organizations with passionate, skilled volunteers who share their expertise pro bono. Taproot is creating a world where organizations dedicated to social change have full access—through pro bono service—to the marketing, strategy, HR, and IT resources they need to be most effective. Since 2001, Taproot's skilled volunteers have served 4,600 social change organizations providing 1.5 million hours of work worth over $160 million in value. Taproot is located in New York City, San Francisco Bay Area, Chicago, Los Angeles, and Washington, D.C. and is leading a network of global pro bono providers in 30 countries around the world. www.taprootfoundation.org
About True Impact
True Impact is a web-based measurement tool and benchmarking network for the charitable sector. Donors and nonprofits use True Impact to measure the social impact of their grants, volunteerism, and other philanthropic investments, to demonstrate success and identify opportunities for improvement. www.trueimpact.com
About Pro Bono Week
Pro Bono Week is a global celebration of the pro bono ethic across all professions that use their talents to make a difference. Inspired by the American Bar Association's National Celebration of Pro Bono, pro bono enthusiasts around the globe focus their attention on the pro bono movement each year during the third week of October. This year Pro Bono Week is October 23-29 and is generously sponsored by Prudential. #PBW16,https://www.taprootfoundation.org/support-probono/pro-bono-week
Contact
Suzanne Craig
pr@taprootfoundation.org
Image: CC BY 2.0