For the second year, UPS is participating in the Volunteerism ROI Tracker as part of its leadership with the Points of Light Institute's Corporate Service Council. The strength of UPS's volunteer program is its alignment with the company's core competencies: coordinating large events and providing team-based services for nonprofits.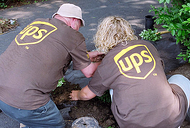 Teams of UPS volunteers are able to leverage their skills in shipping and supply chain management in service to humanitarian aid organizations like the Red Cross and UNICEF. And who better to teach safe driving to teens at the Boys and Girls Clubs of America than professional UPS drivers?
The Volunteerism ROI Tracker found that this alignment between UPS community involvement and the company's expertise generates significant, tangible benefits to all constituencies: the nonprofit partners, UPS, and the community. The UPS case study below summarizes these effects using a single-month snapshot of concrete volunteerism impacts, including social value, satisfaction, skill development, and new-business leads.
We talked with Jerald Barnes, Region and District Grants Manager at The UPS Foundation about community involvement and its impact on UPS employee skills and satisfaction. To read more about how UPS employees volunteer to connect to their values and the company's mission, and the effects of those activities, download the UPS Volunteerism ROI Tracker Case Study. For more information on tools for measuring volunteerism, visit us.