High-quality volunteer programs provide an experiential learning opportunity for employees to develop new relationships, solve problems, and take leadership outside of their comfort zone. The practical application of coaching, adapting to new demands, and resolving conflicts makes these skills highly transferable to professional roles. The business case for employee volunteerism lies in shortened learning curves for new employees, increased productivity from new and strengthened skills, and reduced turnover through employee satisfaction.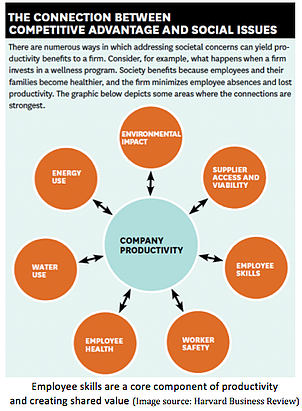 Employee skills are a core concept in creating what Harvard business professor Michael Porter calls shared value, an advancement of the idea that sophisticated companies enhance profit when they do good.

When properly designed and supported, Corporate Social Responsibility (CSR) activities can be structured to help staff learn and practice a variety of skills that can boost productivity in the workplace. Through our work with the Points of Light Institute and our Volunteerism ROI Tracker, we've found that volunteerism can develop new professional skills or personal skills.

Some industries have institutionalized social service as a way to strategically develop skills in their employees: law firms, consultancies, and medical schools, for example, often have strong pro bono service programs that simultaneously help staff gain experience and develop skills in certain areas. Similar opportunities exist for virtually any company in any industry to design their own CSR programs, to deliver goods and services, and to meet social needs in ways that train inexperienced employees. For example, pro-bono projects provide an excellent opportunity for novices to begin developing some of the elemental organizational skills required to be a successful project manager. Cisco's Leadership Fellows Program and the UPS Community Internship Program are examples of companies building professional skills through community investment.

Even when not providing direct job-related skill training, volunteerism can contribute to employees' satisfaction and well being on the job, which has been linked to improved productivity. Evidence suggests that sustained programs with substantial commitment from participants can provide a significant level of fulfillment to an employee. Even if a CSR activity is not directly related to a person's job, volunteering can boost job satisfaction, general performance, and keep a person from moving to another job that fills unmet needs (preventing turnover). And one of the twelve attributes of a great place to work is a job that gives employees a sense of meaning beyond making a profit.

Our Volunteerism ROI Tracker measures how employee volunteer programs impact job satisfaction. We've found that by designing activities to match volunteers' interests, companies can significantly influence employees' reports of job satisfaction through volunteerism. In the 2010 Volunteer ROI Tracker initiative, employees were 40% more likely to report that they were extremely satisfied with their job if their volunteerism matched a personal cause interest.

For more information about measuring the impact of your employee engagement and other CSR initiatives, schedule a demo with our team.
Image credit: CC BY 2.0