Pfizer Global Health Fellows (GHF) is a sector-leading international employee volunteer program that places Pfizer employees with international development organizations in key emerging markets. Over the last decade, more than 300 Pfizer employees have improved supply chains, business operations, and health prevention in partnership with 40 development organizations.
Pfizer's long-term impact
Through the True Impact pro bono management platform, Pfizer collects post-project and 12 months post-project data from NGO partners and fellows to determine the long-term impacts of the GHF experience, finding:
Immediate and long-term NGO capacity gains
High employee and partner satisfaction
Long term employee skill and leadership development
Strategic business and corporate brand benefits
Pfizer partner long-term capacity gains: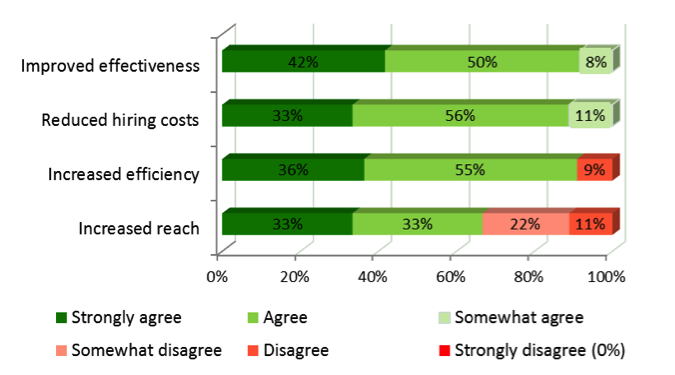 Click here for a case study on the social, employee, and business impacts of Pfizer GHF.
Strategic partnerships
Pfizer commits to a two-year cycle of Fellowship placements with each organization. Through continuity and building on past Fellowship work, the program is able to develop longer-term community impacts. Focusing on fewer partners and specific health challenges in the 2-year cycle also enables Pfizer to be simultaneously relevant to community needs and the expertise of Pfizer employees.
An example of the GHF program's partnership model is the six-year GHF project with Mothers to Mothers, an organization committed to reducing mother-to-child transmission of HIV through education and empowerment. The first Pfizer Fellows joined M2M when it was just a 4-person team, working to develop its revenue stream and infrastructure. Today, Mothers to Mothers employs 1,000 mentor mothers with HIV in seven sub-Saharan African countries.
Alumni support
After 10 years, the GHF alumni have become a part of the extended program team, supporting Fellows in the field, reviewing initial applications, and rating top prospects. In order to connect back to the business with a formal platform, GHF alumni formed the Alumni Business Network. The Network organizes a leadership speaking series, network events, and quarterly newsletter to promote high‐value skilled‐based volunteerism and leverage their Fellowship experience back to the business.
Click here to download the full Pfizer Global Health Fellows case study.