Software Advice's Volunteer Impact Report:
I recently read technology research firm Software Advice's recent donor survey, which collected data from nearly 3,000 nonprofit professionals about measuring the impact of volunteers. The report makes a good case for measurement to prove the value of programs for funders and provide opportunities to improve the volunteer experience. For volunteer managers, acting on volunteer data can lead to increases in volunteer recruitment, engagement, and retention. For fundraisers, reporting on volunteer outputs and outcomes can help drive funding.
What resonated with me was the 45 percent of nonprofits did not collect any data on their volunteers because of the following limitations:
34% lacked resources and tools
29% lacked skills or knowledge
25% lacked time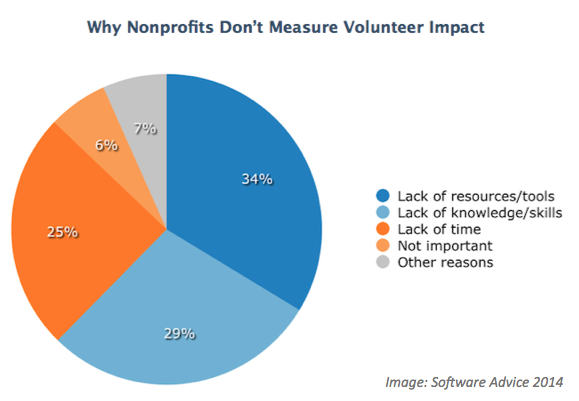 It makes sense, right? How could you do something without tools, knowledge, or time?

This is the culture of scarcity that plagues nonprofits and limits the effective use of volunteers. Frankly, the tools, knowledge, and time have never been more available, and outcome data has never been more essential for recruiting and retaining volunteers or turning them into donors. As Software Advice found in a recent donor survey, 60 percent of donors want impact stories to see how their first donation is making a difference before making another donation.

I believe that the challenge nonprofits face is not a lack of resources, but a glut of information around measurement. It is so easy to send out a feedback survey to volunteers - they can even answer it on their phones, in real time - that nonprofits get stuck on surveying every volunteer and program stakeholder. The challenge is cutting through the noise and asking one question:

How do you help us reach our Big, Hairy, Audacious Goal?



How to Measure Volunteer Impacts:

Software Advice calls this "proof of progress towards mission goals," and it acts as the foundation of a measurement approach that is simple, cheap, and easy. Select a few indicators that help measure your progress toward your organization's BHAG and throw out the rest.

There are three ways to understand how volunteers bring a nonprofit closer to their BHAG:

1. Activities that Increase Revenues
Volunteers, often in board leadership positions, increase revenues through fundraising efforts and grant writing. Company-sponsored volunteers often bring in funding through Dollars for Doers matching grant programs.

2. Activities that Reduce Costs
Volunteer time can be monetized in order to understand the relative value of volunteerism to a nonprofit who would otherwise have to pay for services. You can also monetize efficiency gains for activities that go beyond lending a hand and improve the nonprofit's capacity to do more with less - improving software, implementing lean management systems, or providing staff professional development.
3. Activities that Promote Mission
This is what we often think of as the 'real' metric to measure volunteer impact: did volunteers increase program effectiveness? Nonprofits often use program reach interchangeably with program outcome, but reach is not always synonymous with social impact. Having a BHAG in place enables a nonprofit to begin to map out the connections between their program activities and their end outcomes in a logic model. Once an organization understands where volunteers fit into a program's logic model, they can focus on the core indicators that track success


The Good News:

You already have the resources you need to begin mapping and measuring the value of volunteerism. Look to volunteers who are as excited to achieve your Big, Hairy, Audacious Goals as you are, and let them lead the way.

For more from Software Advice on the 2014 Volunteer Impact report, you can read the full report or see the volunteer impact infographic.

You can also learn more about our approach to measuring volunteer impacts here.