One of the features most appealing for participants of the Volunteerism ROI Tracker is the private benchmarking feature. The tracker ranks companies among their peers on employee volunteer satisfaction, skill development, and social and business impacts.
Here are a few of the reasons we're excited about benchmarking in CSR tools:
1. Accountability. Benchmarking improves the accountability of a company's employee volunteer program (EVP). Where internal metrics can compare an EVP to past performance or national averages, benchmarking highlights a program's performance against peers.
2. Simplicity. The Volunteer Tracker's ranking system makes measuring performance and setting program targets simple.
3. Systematic approach. Systematic benchmarking creates a balanced, coherent reporting across programs and companies.
4. Objective analysis. External benchmarking systems have more credibility among external stakeholders than an internal performance audit.
5. Industry impacts. Benchmarking helps guide what performance indicators companies measure and aggregates the social and business impact of the corporate volunteer sector.

Social Investing and the Future of EVP Metrics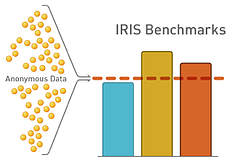 While not in engaged directly in measuring employee volunteerism, the Impact Reporting and Investment Standards (IRIS) is at the forefront of measuring and benchmarking social and environmental performance across organizations and impact funds.
As social investing grows in market share and sophistication, corporate volunteer programs should be next in line for global metrics to prove the ROI of human and financial capital investments. We're publishing aggregate impact metrics from the 2011 Volunteer ROI Tracker next month, and are looking forward to contributing to this new commitment to measurement and stakeholder accountability.
Are you interested in incorporating CSR benchmarking into your social impact reporting? Contact our team to learn more.
Image: CC BY 2.0